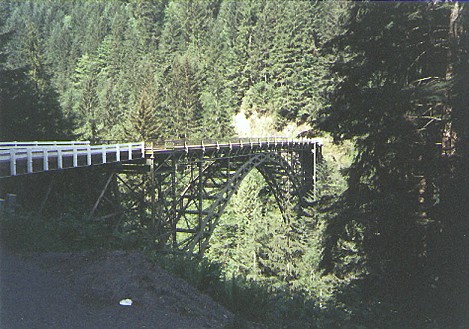 Located a few miles south of Carbonado on SR 165, spanning the Carbon River canyon. This one lane bridge was built by Pierce County in 1923-24 to provide auto access to the coal mining towns of Faifax and Montezuma, the Manley-Moore town and lumber mill, homesteaders, and the northwest corner of Mount Rainier National Park. The bridge, along with a similar one that used to stand in Burnett six miles north, along with the road had been heavily lobbied for by local politicians. The only access to the upper Carbon River valley prior to this point was via the Northern Pacific Railroad or a long hike overland. It was also envisioned as part of a "round the mountain highway" that had been proposed for the park. That highway was never completed, as it proved not to be practical (the park's West Side Road was completed as far as the Puyallup River). The mill fell victim to the Depression and the mining towns are gone, but the bridge remains a vital link to the outside world for the dozen families still living in the valley.
During the summer of 1995 the bridge was closed so the approaches could be rebuilt and the bridge redecked. Steel plates were placed over holes in the bridge deck so residents who lived above the bridge could enter and leave their homes. The bridge re-opened in the spring of 1996, only to be closed again the next winter by landslides and washouts in the canyon and on the approach road to the Ipsut Creek area of the park. The road was closed again until the winter of 1996-97. The bridge survived most of 1997. In November 1997 a fatal car crash knocked some power lines onto the south approach and set the bridge on fire. Fortunately the fire was extinguished before the bridge was destroyed. However, the bridge was rendered unsafe for auto travel, so the DOT began its restoration project anew. This time local residents were allowed to use logging roads to access their homes. Construction occurred at an accellerated pace, and the bridge went back into service in June 1998.
During the 1920's a speakeasy was located in a building attached to this end of the bridge, across the road from this vantage point. It catered to the bridge construction workers, coal miners, loggers, and other area residents.
About a mile south of this point the road forks. The left fork is the county road. It is paved. The right fork is part of SR 165. About a mile from the fork the highway becomes gravel. It is the last gravel state highway in Washington (SR 126 and original SR 128 have been decommissioned.)
The Fairfax Bridge, a.k.a. the O'Farrell Bridge, is listed on the State Register of Historic Places.
This picture was taken ca. 1991 or 92.