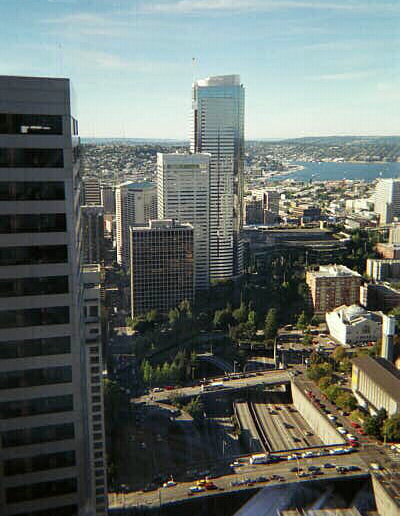 Looking north from the Key Tower to Freeway Park and the Washington State Trade and Convention Center. Both were built over I-5.
Notice how the freeway profile is narrower at this point than it was to the south. Madison Street is the overpass in the foreground. 6th Ave. runs away from the window. Down in the shadows is the southbound offramp to 6th / Columbia / Cherry / James. Next to it is the onramp from Spring Street to southbound I-5, which sends traffic onto the southbound C/D onramp. Next to that is the northbound I-5 offramp to Seneca Street. on the right is the northbound mainline, with the two through lanes on the left, and the onramps from the northbound C/D and 7th Ave. The far right lane becomes an exit only lane to Olive Way under the Convention Center.
The express lanes are under the northbound mainline at this point. The express lanes are two lanes wide at this point, with one lane coming to / from the mainline and the other an HOV lane coming to / from downtown.