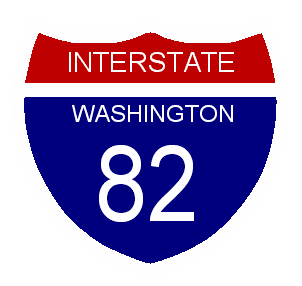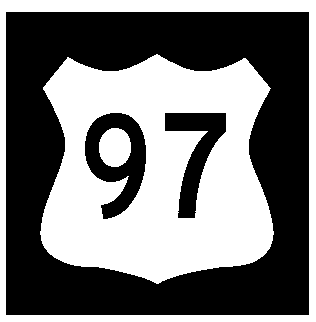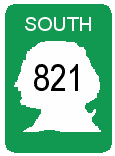 ---
This page covers I-82 between Ellensburg and Selah, WA; and SR 821 - historic US 97 / P.S.H. 3 / Inland Empire Highway - in the Yakima River Canyon. In the future this page may be expanded to to cover the rest of I-82 and US 97 in Washington.
This stretch of I-82 opened to traffic in late 1971. The route is somewhat steep by interstate standards - over 6% in places. It crosses two ridges and the Army's Yakima Firing Range. As I-82 also passes through an Army depot at Umatilla, Oregon, and connects with I-90 which is part of the primary route between the Firing Range and Fort Lewis, troop convoys are a common sight. The landscape is barren (this is a desert / steppe climate region), but a scenic viewpoint on Manashtash Ridge and a rest area at the Selah Creek Bridge provide breathtaking views of the surrounding countryside.
US 97 is now multiplexed with I-82. Prior to 1971 US 97 followed the Yakima River, which slices its way through the ridges between the Kittitas Valley on the north and the Yakima Valley on the south. The highway was hacked through in the early years of the 20th century and the winding alignment remains nearly unchanged since the day it was built. Today the Yakima Canyon Road remains part of the state highway system as SR 821. It's a good road for those not in a hurry.
The original road between Yakima and Ellensburg was known as the Wenas Road. This wagon road went up the Wenas Creek Valley then over Umtanum and Manashtash ridges to Ellensburg.
Pictures
I took these pictures in May 2000. Some of the file sizes are large; I do apologize.
View of I-82 where it climbs Manashtash Ridge, looking out over the Kittitas Valley towards Ellensburg and the Stuart Range.
Selah Creek Bridge (Fred Redmon Memorial Bridge)
Abandonded tunnel on old US 97 in the Yakima River canyon.

---
Return to Northwest Highways homepage


Page last updated January 13, 2001 by "junior". Materials on this page may not be reused without my permission. This site is not affiliated with any government agency.