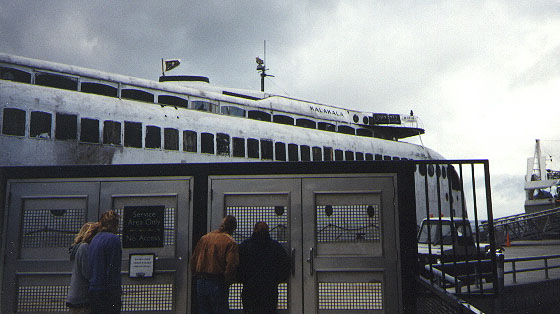 Kalakala (say KAh-LAH-kah-luh) means "flying bird" in the Chinook jargon, but in her day she was more affectionately known as the "silver slug." She served as a ferry for the Black Ball Line and Washington State Ferries from 1935 to 1967. Her home was the Seattle - Bremerton run, except for a couple of summers spent on the Port Angeles - Victoria run. As the world's first and only streamlined ferry, she was a tourist attraction for over 30 years. Unfortunately the design of the boat made it hard to see the bow of the boat from the bridge, leading to a few dock-ramming incidents, and also limited its usefulness in the long run. After the vessel was retired and sold she eventually was beached in Kodiak, Alaska, and used as a crab processor. The current owner towed her back to Seattle in 1998 with hopes of restoring her to her former glory.
for more information on restoration efforts visit the Kalakala Foundation website.
NEW INFORMATION 2004: The Kalakala has been sold to a new owner and has been moved to temporary moorage in Neah Bay, Washington. Like the previous owner, the new owner has plans to restore the old ship.