I- 90 MOUNT BAKER TUNNELS
Pictures taken november 2000 by Junior. Click on the images to see a larger view.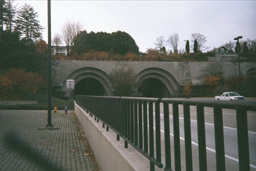 These are the original Mount Baker tunnels which were completed in 1940. The tunnels originally carried four lanes of traffic. They now striped for three lanes - one lane in the left hand tunnel and two in the right. This picture was taken from an old auto pullout. Traffic used to be able to turn off the highway into the residential area here. With the completion of I-90 that turn was permanently closed.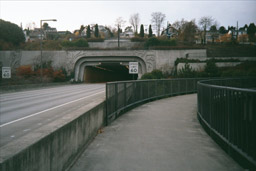 The original plans for I-90 called for a giant cut through the ridge. Needless to say residents of the Mount Baker neighborhood were not happy with this plan. In the end a new tunnel was bored next to the original 1940 bores. Three new tunnels were bored: The main tunnel carrying the three westbound lanes, seen here; the express lanes tunnel which begins on the east directly below the westbound tunnel and emerges from the lid on the west between the eastbound and westbound tunnels; and a service tunnel which is above the westbound auto tunnel.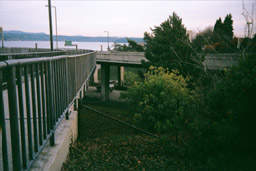 The I-90 express lanes emerge from the Mount Baker Tunnel. Picture taken from the Homer Hadley Floating Bridge pedestrian path.
---
page updated December 11, 2000 by Junior. Materials on these pages may not be reused without permission of the page author.