Welcome to my webpage. I hope you enjoy your visit. This site chronicles the history of the highways of the Pacific Northwest in words and pictures. News as of 1-25-2003:broken links:My web hosting service moved my site to a different server just before New Years'. As a result, some of the links do not work. I am working on fixing them. The future of this site: I have moved to Alaska, so I am not sure how much more content I am going to add to my site. I am still planning on adding sections for cancelled freeways in the Seattle / Tacoma area, a section on Old Blewett Pass, and possibly a small Alaska section, but beyond that there probably won't be much else. - Erick Johnson
Page best viewed at 1024x768 resolution. If you prefer to view this page without frames, Click here to view this page without them.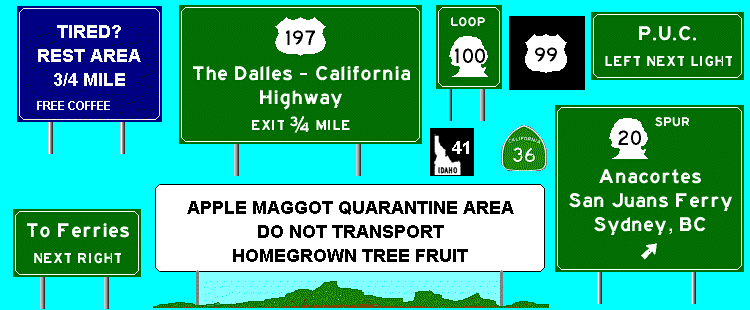 this page was updated on 07/27/04
Travellers have been through this page.
creator: Erick Johnson. This is a non-profit site. This site is not affiliated with any government agency. Materials on this site may not be reused without the permission of the page author.
Signs made with Kurumi Sign Maker